Gittoes interview with Real Screen
IDFA '15: George Gittoes returns with "Snow Monkey"
"Snow Monkey is Australian filmmaker and artist George Gittoes' (pictured, right) latest foray into tracking the tribulations and triumphs within war-torn Afghanistan.
The 148-minute film, which was recently acquired by Tel Aviv-based distributor Cinephil, shadows the towering Australian as he persuades Jalalabad's willing street gangs of children to pick up camera equipment in place of weapons as the Islamic State violently makes headway into the Taliban-heavy area.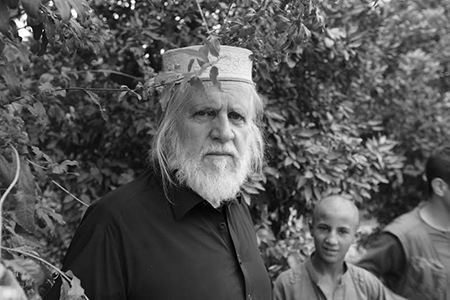 The documentary – which held its work-in-progress world premiere at the Melbourne International Film Festival (MIFF) in August – focuses its lens on three sets of child-run street gangs. They include the Snow Monkeys, ice cream vendors supporting their families, and the victimized Kochi Ghostbusters, who sell smoke to exorcise demons, to the Gangsters, a threatening razor clique led by nine-year-old Steel.
Through the Yellow House Artist Collective, which was founded by Gittoes and partner Hellen Rose in 2011 and serves as both independent film school and walled-off sanctuary, the Sydney-born director-producer, and recent winner of the Sydney Peace Prize, attempts to provide these underprivileged children with a better future by starring in, filming and producing local Pashto-language films.
The film follows 2009′s Miscreants of Taliwood, which tackled the Pakistani film and travel board and the threat from the Taliban; and Gittoes' 2013 social change doc Love City, Jalalabad, about his founding of the art center, the Yellow House Jalalabad.
Realscreen spoke with Gittoes from his home in Sydney, Australia to discuss the challenges of living and filming under the constant threat of violence ahead of Snow Monkey's international premiere at IDFA on November 20. The film has additional screenings on November 26 and 28." – By Daniele Alcinii for Real Screen